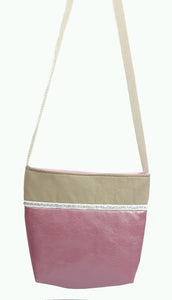 Hopelessly Romantic - Shoulder Bag
Regular price $45.00 Sale
Features:
Bag size is 11.5'' width by 10", Length of strap is non adjustable with a drop of 22" top centre strap to base of bag. Comfortably lies at the hip on a 5 foot six frame.
A purple Pink Vinyl with silver sequin on the front for added detail, this detail is not on the reverse of the bag.   Beige twill for the top of the base, magnetic closures, inside lining is pale pink to contrast with fabric.  Inside pockets for cell phone, pen and tissues is pink.  Fusible fleece has been used as a stabiliser for the sides with boxed out corners at the base of the bag.
Holographic Thread has been used to accent this range and added sparkle and twinkle to the item just at the base of the bag.
Refer to our Additional Information Page for washing and care instructions